Videos
Long-range surveillance
40x optical zoom
The SX800 is equipped with a 40x optical zoom lens that covers a broad range of focal lengths from 20mm on the wide angle end to 800mm on the telephoto end. It is complemented with 1.25x digital zoom to achieve long-range surveillance equivalent to 1000m in focal length.

Licensed by TOKYO TOWER
High-performance image stabilization
New image stabilization system
The SX800 combines optical image stabilization (OIS) and electronic image stabilization (EIS) to accurately compensate for camera shake, typically caused by gusts and footing vibrations at the site of camera installation. The system is particularly effective when shooting in the ultra-telephoto range, which is susceptible to even the slightest of shakes.

Licensed by TOKYO TOWER
High-performance EIS
In the EIS mode, the SX800 uses a sensor large enough for its lens's effective diameter to secure full HD resolution (1920 x 1080), thereby delivering footage of premium quality. The combined use with OIS also improves the durability of the image stabilization system substantially.

Full HD(1920×1080)      

Recording area

General sensor                               SX800's sensor
Use of new devices
The SX800 sports high-precision gyro sensors to accurately detect minute vibrations that could not be detected previously. The use of newly-developed high-thrust linear motor delivers an advanced level of accuracy and tracking performance.
New ceramic bead roller system
The SX800's OIS uses a unique "ceramic bead roller" system. Ceramic beads, processed in ultimate precision, minimizes friction and resistance to achieve advanced responsiveness and excellent durability in image stabilization.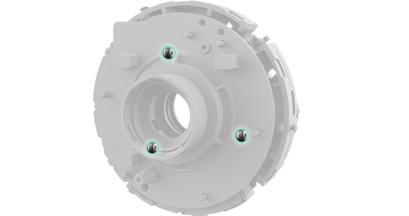 High-speed AF system
On-sensor phase detection AF
The on-sensor phase detection AF uses phase detection pixels across the sensor to instantaneously measure distance according to the displacement of incident lights. The SX800 also offers "contrast AF," which detects areas of high contrast in images at high accuracy, and automatically switches to the optimum AF setting.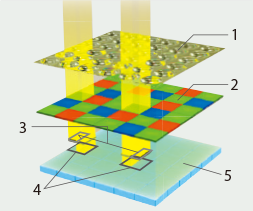 1. Micro lens
2. Color filter
3. Phase detection filter
4. Phase detection pixels
5. Photo diode
Rear Focus mechanism
The use of the Rear Focus mechanism has significantly reduced the weight of the focusing lens group. This has also dramatically increased the focus drive speed to enable "continuous AF." Users can choose between "Continuous AF," "Quick AF" and "Manual Focus" according to the conditions where the camera is used.
Image processing technology
Low light conditions
The use of the highly sensitive sensor and the effect of advanced noise reduction mean the SX800 can shoot clear footage with minimal noise even in low light conditions.

ISO 400                                         ISO 204800
Fog reduction
The SX800 uses a unique imaging technology to bring vivid clarity to hazy images caused by light diffusion with airborne mist droplets and dust.

Fog reduction OFF                        Fog reduction ON
Heat Haze reduction
The SX800 uses a unique image processing technology to reduce the shimmering effect of heat haze, caused by large difference in atmospheric temperatures, to make the entire images easier to see.
Simplified setup
Cameras with built-in lens
Conventional surveillance systems require the adjustment of optical axis and flange focal length when mounting a lens on a camera. The SX800, which carries a built-in lens, is shipped with such settings optimally adjusted to bring out maximum performance. The design also eliminates the need for complicated wiring, thereby significantly reducing man-hours at the time of installation.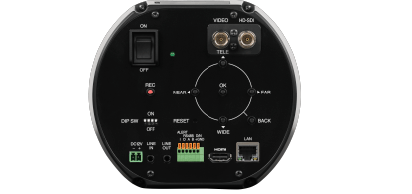 Robustness
New design with advanced rigidity and portability
The SX800's aluminum extrusion body is highly rigid and exceptionally robust. A carrying handle* may be attached to the body, using screw holes at the top, for transporting convenience.* FUJIFILM does not offer a carrying handle.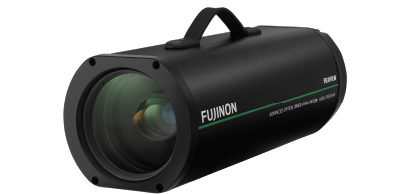 Specifications
Lens
| | |
| --- | --- |
| Model name | SX800 |
| Optical zoom | 40x |
| Digital zoom | 1.25x |
| Focal length | 20mm – 800mm |
| Maximum aperture ratio | 1:4 (20mm), 1:7.4 (800mm) |
Minimum object
distance (M.O.D) from
the front lens
10m (20 – 400mm in focal length)
20m (401 – 800mm in focal length)
Angle of view
[16:9 (H x V) ]
20mm 21.0° x 11.8°
800mm 0.55° x 0.31°
Camera
Effective sensor size
1/1.8
Minimum illumination
Color: 0.00015lux (at F1.2) / 0.0017lux (at F4.0)
B/W: 0.0001ux (at F1.2) / 0.0011lux (at F4.0)
Focus settings
Continuous AF, Quick AF, Manual
Iris
Auto, Manual (Aperture range : F4 – F16)
Shutter speed
Auto (with minimum speed selection of 1/8 – 1/125s), Manual (1 – 1/20,000s)
Gain
Manual, AGC, HYPER-AGC
(Setting range: ISO400 – 819200)
Optical filter
Visible Light Cut filter (ON / OFF)
Day / Night selection
Auto, Manual
Wavelengths selection
950nm, 940nm, 850nm, 808nm, Visible light
Image stabilization
Auto, OIS, EIS, OFF
Wide dynamic range
Selectable (2 levels)
Back light correction
Selectable (2 levels)
Heat haze reduction
Selectable (3 levels)
Fog reduction
Selectable (3 levels)
Noise reduction
Selectable (3 levels)
Brightness
Selectable (21 levels)
Contrast
Selectable (5 levels)
Saturation
Selectable (5 levels)
Sharpness
Selectable (5 levels)
White balance
Auto, Custom 1 – 2, Fine, Shade, Color
Temperature (3000K, 5000K, 9000K)
Video output systems
NTSC, PAL
Video format
NTSC: 1080p, 720p, 480p/PAL: 1080p, 720p, 576p
Video output systems
HDMI, HD-SDI, Composite(BNC)
Audio input / output
Input impedance: 40kΩ
Output impedance: 200Ω
External interfaces
Ethernet(10Base -T, 100Base-TX, RJ45
connector), RS-485,
External trigger (Day / Night)
Recording format
File recording format : MOV
Compression format : H.264 compliant
Audio recording format :
Linear PCM stereo (48kHz sampling)
RS-485 compatible protocol
Pelco-D / Pelco-P
(including extended commands)
Power source
DC12V
Power consumption
9.5W
Supported SD card
(SDHC/SDXC)
UHS-1-compatible 8GB+
SD Speed Class 10 or above
Network
Network protocols
ICMP, ARP,TCP/IP, UDP/IP, HTTP, HTTPS,
FTP, SMTP, DHCP, DNS, NTP, SSL/TLS
Supported OS
Windows 7/10
Supported browser
Chrome71+, IE11
ONVIF support
Yes (Profile S)
Maximum number of connections
13 (simultaneously connected users)
Miscellaneous
Size (H x W x L)
139mm x 156mm x 410mm
Weight
6.4kg
Filter thread size
M112 x 1mm
Operating environment
Temperature : -10℃ - +50℃
Humidity: 10% – 80% (no condensation)
Tilt limit
45 degrees upward – 45 degrees downward
The product' s design, specifications and exterior appearance are subject to change without notice.
Product brochure (PDF)
You can download a brochure that covers the features and specifications of the SX800.